Connect to other Brands of pipe
Twistloc® insist on rigorous testing to ensure that all of pipes and fittings are manufactured within certain tolerances.
As we are unable to guarantee those tolerances used by other manufacturers, we are unable to recommend our fittings be used with any other plastic pipe or fittings be used with ours.
End Stop
If necessary, Twistloc® not only provides a permanent leak-prevention sealing effect but also enables immediate removal and system extension for re-work. In particular, this is a Push-in design for easy use.
The Stop End is also useful in system pressure testing prior to connection works.
Fully push in the pipe and pull to check it is secure. The release, depress the collet and pull out the pipe.
Pipe Bending
To maintain the pipe radius.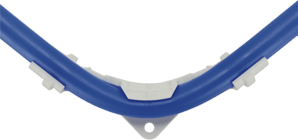 For sharp bends, standard elbow fittings can be used. For slight bends it is possible to use the flexibility of the pipe to produce a bend which can be clipped into shape, or tighter still with a 15 cold forming bend, subject to the following limits.
Pipe Size(OD)
1/2"
5/8"
7/8"
1"
10mm
15mm & 16mm
20mm & 22mm
28mm
Min Radius with Clips
100mm
175mm
225mm
300mm
Min Radius with Cold Forming Bend
90mm
Concealed pipework
When installing the Twistloc® system in concrete and masonry, the pipe should be run in conduit pipe with access boxes for the fittings. This ensures that all pipe can be removed for replacement and maintenance, therefore complying with the requirements of the water regulations.
Connecting to a storage vessel
We offer a range of tank connectors in 15 and 22 options for connection to cold water storage tanks.
During installation, do not use any jointing compound on the connector. It should be tightened by hand as further mechanical tightening will damage the fitting.
Connecting to boilers and heaters
A minimum length of 1 metre of copper pipe must be installed before connecting to a Twistloc® pipework system.
To avoid serious overheating, trapped air must be purged from the heating system before the boiler is operated. Always refer to the boiler manufacturer's installation instructions in the first instance.
Continuously operated recirculating systems
(secondary hot water circulation / ring main installations)
Plastic plumbing systems are not suitable for use on any continuously operated recirculating systems (secondary hot water circulation / ring main systems).
These installations differ greatly from traditional domestic installations and therefore Twistloc® pipe and fittings may not be used.
Freezing for maintenance/system modification
We wouldn't recommend freezing techniques to carry out maintenance on our pipework or fittings. Ensure when installing the system there are suitable isolation valves used for maintenance purposes.
Freezing conditions
Our plastic pipe can be used in freezing conditions. However, to minimise potential failure, the below steps should be followed:
Make sure that metal to plastic pipe connections are made in an area where freezing will not occur.
Ensure fittings are placed 150mm away from areas where freezing may occur to ensure there is enough free pipe to absorb the expansion caused by freezing.
Insulate plastic pipe and fittings where freezing conditions may occur.
Painting Twistloc® pipe and fittings
Twistloc® can be painted with either a water-based paint or an oil-based paint with an undercoat. Cellulose-based paints, paint strippers, thinners, flux, acid-based descalents or aggressive cleaning products must not be used.
Corrosion inhibitors
We've tested Flomasta pipes and fittings with Fernox & Sentinel and have approved them for use with our fittings. Flomasta pipes and fittings are also suitable with our Flomasta central heating inhibitor.
Antifreeze
We've approved antifreeze which is based on Ethylene Glycol mixtures only.
Electrical safety
Please contact a registered electrical contractor or your local Electrical Authority with regards to bonding, continuity and electrical safety.
UV protection
Twistloc® is suitable for use outdoors, however it should either be painted or covered with insulation to protect against exposure to UV rays.
Pressure testing
It's essential to carry out a full system check upon completion of an installation. Before carrying out any tests, ensure that all Twistloc® pipe and fittings are installed correctly. We recommend a test of 2 bar for 10 minutes followed by 10 bar for 10 minutes. Any products that are not manufactured by Twistloc® and are unable to withstand the test pressures should be disconnected during the test and capped off using the Twistloc® end stop cap. Pressure testing is NOT a substitute for making sure pipes and fittings are correctly installed. For details on how to make a secure join, refer to the beginning of the installation guide.