Special Applications
Boats: Twistloc® system is flexible, allowing cables to be connected and easily hidden from view from the inside.
Caravan(RV): Twistloc® is ideal for caravan installation due to its flexibility and resistance to corrosion and freezing.
Exhibition: Twistloc® is ideal for this application with unique features and the flexibility to easily separate and reuse.
Agriculture and Horticulture: Twistloc® has many applications in agriculture and horticultural environments.
Mobile Home: Twistloc® is ideal for this application, just like caravans.
Why choose Twistloc®
The technology in Twistloc® push -in fittings offers greater security and efficiency compared to other traditional fittings and valves , giving you the reassurance that the products you're installing are built to last. All plastic fittings and valves can be designated with a visual colour connection , ensuring that the connection is secure. Twistloc®products are certified for use with PEX, PB, Copper and cPVC pipe , making it easy to combine different types of pipe for repairs or new installations. Our products are easy to install and can help save labour time substantially.
Key features and benefits:
Simple and Easy to install.
Secure connection indicator helps confirm leak-free joints.
Easy verification of coupling (lock/unlock) status, even from a distance.
Removable and reusable without damage to plumbing or fittings.
Lightweight for easy handling.
Strong connection suitable for heating systems.
Product traceability - code printed on the product to track manufacturing quality control.
Flame-free, no need for a blowtorch.
No corrosion or mineral build-up.
Low heat diffusion ensures safe surface temperature.
More resistant to bursting under freezing temperatures.
No lead, non-toxic.

Twistloc® products are a one step, fully demountable and reusable push-fit plumbing system which combines both pushfit and twist locking technology to offer a guaranteed secure, peace of mind leak free joint. Twistloc® which incorporates pressure and combination system, is the Twist and Lock system suitable for plumbing, local/home hot water supply and heating systems. Twistloc® products have been tested and approved in accordance with WRAS, Kitemarked to BS 7291 Parts 1,2 and 3 Class S, cUPC, NSF, Water marked to AS 4176.3 and ACS.
Our products provide for the perfect plumbing system and are manufactured to ISO 9001 BSI standard. The specification of products complied with the requirement of central local/home heating and water supply systems. Various test have proved that Twistloc® products are resistant to temperature and pressure beyond the normal operation ranges. The secure connection indicator means that once the green band can no longer be seen, you'll have absolute certainty that the joint is properly connected. This means you can be rest assured, knowing that you won't have to worry about future issues with leaks due to imperfect joining. The secure connection indicator is patented by our manufacturer. Not only does it make installations easier and safer, but is also straightforward and simple to use. Twistloc® products must be installed to the correct plumbing regulations. Follow our installation guide for further information on correct fitting.
Making a perfect connection
To Lock The Pipe Connection
These instructions relate to the installation of Twistloc® fittings for copper, PB, PEX and cPVC pipes.
Please note that it is the installer's responsibility to ensure that Twistloc® fittings, pipework and other components are appropriate for the intended applications, and that products are installed in accordance with the installation instructions and local plumbing codes.
No information in this publication is intended to create any warranty beyond the SNC product warranty applicable to the plumbing system.

Installing push-fit products:
Before you start, inspect the pipe. Ensure there are no scratches, gouges or any form of damage or deformation on the pipe. It should also be free from dirt and grease that may affect the seal.

Pay close attention to the first inch (25.4mm) from the cut ends. Damage or foreign substances in this area may cause leakage problems. If there are any concerns, cut the affected pipe end to a clean and undamaged point.

Don't use any coarse materials to clean the outside surface of either plastic or copper pipes as this could affect the seal and result in leakage.

Ensure fittings and pipes are always kept clean by keeping them in the packaging provided - don't empty products onto the floor.

Never insert your finger into the fitting as you risk being cut by the metal 'grip teeth' inside the fitting.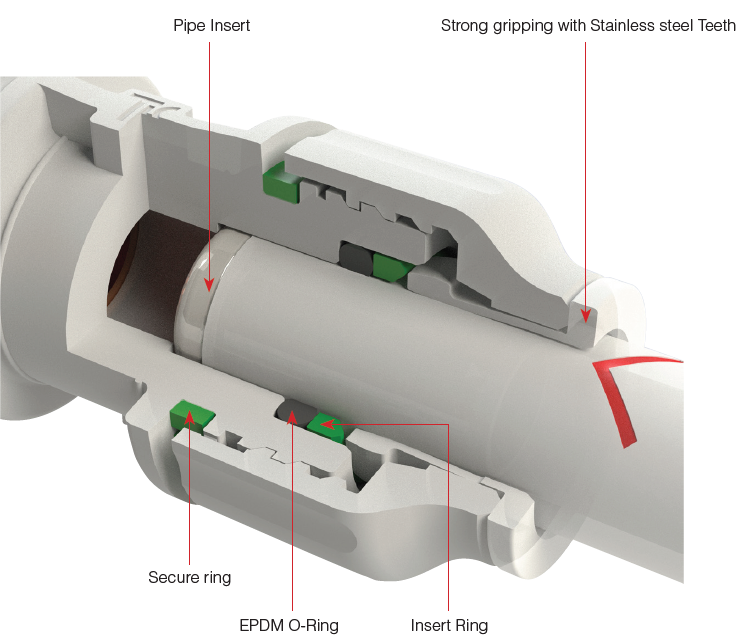 Fittings & Valves Performance
Working Temperatures and Pressures
NO.
Usual Temp
Max Temp
Pressures
Cold Water
20˚C
20˚C
12 bar
Hot Water
65˚C
95˚C
6 bar
Central Heating
82˚C
* 114˚C
3 bar
* Short term overload of up to 114°C